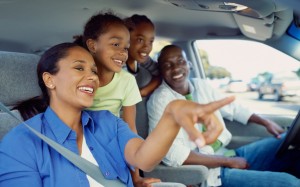 With winter holidays approaching, many families are planning their travel schedules. Which often means driving long distances to be with family and friends. Traveling by car can be challenging when you are traveling with child who has sensory sensitivities. Children are often overwhelmed by changes to their environment and typical routine. The following tips will help your child and family not only survive your holiday road trip, but also enjoy the experience.
Use a Map to Layout Your Travel Route: Knowing what to expect will help your child to better manage stress or anxiety about the unknown. In advance of your holiday road trip, have your child assist you with creating a map that identifies the starting point, destination, points of interest, and stops along the way. To avoid experiencing hours of whining and complaining or hearing the dreadful phrase "are we there yet" it can be helpful to use visual aids to represent how many hours you have traveled and how many hours are left. For assistance with creating a travel map, use Google maps or Mapquest.
Schedule Screen Time: It can be tempting while on a long road trip to turn on a movie or encourage device use to keep a child entertained and pass the time. However, this can quickly result in behavior meltdowns over the course of the trip, especially in children. To prevent this from occurring, consider setting designated  times for screen use. Also, also consider playing car games like slug bug, alphabet game, license plate game, twenty questions, etc. during non-screen use times. Listening to an audiobook is another great option for entertaining your child.
Schedule Quiet Time: To manage stress associated with holiday road trips, quiet time is necessary for all family members. Make sure everyone is on board for a period of quiet time every few hours. Playing smooth jazz or classical music during this time will foster a relaxing environment.
Relax: In general children are very intuitive may have a heightened ability to sense the moods of those around them. Therefore, it's critical that the entire family relax and manage stress successfully. This will create a sense of calm and help your child be able to enjoy the trip.
A long road trip don't have to prevent you and your child from experiencing a safe and happy holiday travel season. The combination of these great tips will help you create the perfect trip that will keep your trip stress-free. We hope that you have a wonderful holiday season with your family and friends.
If you have found this blog to be helpful, please "like" our Facebook page and follow our blog.
Yours in Health,
New Horizons Wellness Services
13333 SW 68th Pkwy,
Tigard, OR 97223
- https://g.page/newhws
New Horizons Wellness Services provides a true multidisciplinary approach to mental & physical health treatments for children, adults and families.
---