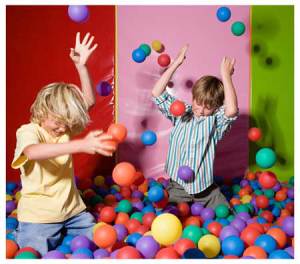 Ever wanted to make your own… Bouncy Ball!?!?
Ingredients:
1 Tbsp. white glue
1 teaspoon of borax powder (can be found in the laundry detergent aisle of most grocery/department stores)
food coloring
1 Tbsp. cornstarch
4 ounces of warm water
Instructions:
Label one cup "Borax solution" and the other cup "Ball Mixture"
Pour 4 ounces of warm water into the cup labeled "Borax Soluation" and 1 teaspoon of the borax powder into the cup. Stir the mixture to dissolve the borax.
Pour 1 tablespoon of glue into the cup labeled "Ball mixture". Add 3-4 drops of food coloring, if desired.
Add ½ teaspoon of the borax solution you just made and 1 tablespoon of cornstarch to the glue. Do not stir
Allow the ingredients to interact on their own for 10-15 seconds and then stir them together to fully mix.
Once the mixture becomes impossible to stir, take it out of the cup and start molding the ball with your hands. The ball will start out sticky and messy, but will solidify as you knead it. Once the ball is less sticky, continue rolling between your hands until it is smooth and round!
Benefits of making a bouncy ball:
Practices following directions
Improves sensory processing skills especially for kids with difficulties tolerating sticky and messy substances.
Encourages fine motor skills such as hand strengthening and in hand manipulation
Not only will this activity help improve your child's planning and sensory processing skills but it will encourage them to improve in fine motor and visual motor as they bounce and catch their bouncy balls!
Have fun! 🙂
Yours in Health,
New Horizons Wellness Services
13333 SW 68th Pkwy,
Tigard, OR 97223
- https://g.page/newhws
New Horizons Wellness Services provides a true multidisciplinary approach to mental & physical health treatments for children, adults and families.
---