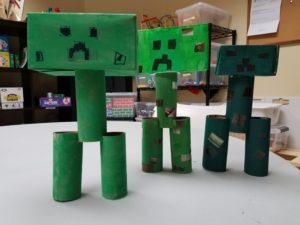 So many people love the game Minecraft. The article Five Things Minecraft Teaches Kids from USA Today describes benefits including building creativity, teaching real-world skills, kids can play anywhere, it's kid friendly and it's fun for the whole family.
For all of us who love the game, our clinic is focusing this month on Marching to Minecraft. We will be using Minecraft themed projects including creeper projects. Our group of Creepers is starting to grow!
Here are the instructions to make your own Creeper at home- please share your pictures with us if you make one!
TP Roll Minecraft- Meet The Creeper
Supplies needed:
3 toilet paper rolls

One small box

One glue stick and liquid glue

Black marker

Scissors

Small squares of paper

Green paint

Paint brush

Paper to put down on the table while you are painting
Steps
Put newspaper or cardboard down on the table to keep the table clean while  you paint.

Paint the 3 toilet paper rolls and the small box green .

Let all of the pieces dry

Make small cuts in the toilet paper rolls so that they can be placed together. 

Put liquid glue on box then place on toilet paper rolls.

Let the glue dry

Use glue stick or liquid glue to apply small pieces of paper in any pattern that you want to make your creeper unique.

Let all pieces dry.

Use marker to draw on face.

Display your creeper for all to enjoy!
Yours in Health,
New Horizons Wellness Services
13333 SW 68th Pkwy,
Tigard, OR 97223
- https://g.page/newhws
New Horizons Wellness Services provides a true multidisciplinary approach to mental & physical health treatments for children, adults and families.
---