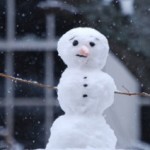 Look each month for new ideas from Melissa Polensky COTA/L. She will be sharing great ideas for easy, fun and sensory rich activities that help to support occupational therapy and speech therapy goals.
Need something to do during winter break? How about making……
Rubbery Marshmallow Playdough
Ingredients:
½ cup marshmallow fluff

½ cup corn starch

1tsp. oil
Instructions:
Combine marshmallow and oil (you can microwave the marshmallow fluff for 10 seconds to help with mixing).

Mix in the cornstarch a bit at a time to make sure that you don't use too much.
Making Rubbery Marshmallow Playdough is very messy! If your child loves to touch and get lots of tactile input they may love this. It is sticky, good smelling and provides lots of sensory input. For kids that don't like wet/messy textures, this may too much for them.
Be sure to have a clean up plan in mind before you get started- have clean towels, washcloths, paper towels out and ready and talk about how kids can clean their hands when they are done.
Yours in Health,
New Horizons Wellness Services
13333 SW 68th Pkwy,
Tigard, OR 97223
- https://g.page/newhws
New Horizons Wellness Services provides a true multidisciplinary approach to mental & physical health treatments for children, adults and families.
---