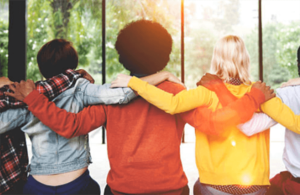 Our clinic offers beginning, intermediate, and advanced social skills groups for individuals in every age group; from preschool to young adults. Our social skills program focuses on teaching participants critical social skills that they are not picking up from their natural environment. We provide participants with opportunities to learn social skills in a structured, yet naturalistic setting, with the idea in mind that these skills will be generalized into everyday life and across all settings. Some of the key components of our curriculum include: initiating peer interactions, turn-taking/sharing, following rules, conflict resolution, social awareness, recognition and utilization of non-verbal cues, emotional regulation, perspective-taking and maintaining age appropriate conversations.
Social skills are an integral part of life for people of all ages. Although individuals think about and interpret events differently, we all need the ability to use social thinking to analyze situations and apply that information in order to have successful interactions with other people. Starting in infancy, individuals intuitively begin to learn interaction and communication skills. From childhood and into adulthood, people continue to develop the ability to read and react to social events. However, some individuals require more formal instruction in these skills than others. Individuals who lack strong social skills can experience behavioral and emotional difficulties, trouble making and maintaining friends, peer rejection, and low self-esteem.
Throughout the year we offer various social skills groups and clubs. During the summer, we also offer unique week long social skills day camps.