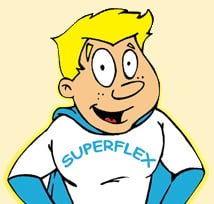 Who doesn't love superheros? SuperflexⓇ is more than a superhero, it's a program intended to teach students ages eight to twelve, how to control their behaviors and become stronger social thinkers. SuperflexⓇ is based on the work of Stephanie Madrigal and Michelle Garcia Winner. The participants in this group will be able to relate to the powers of the superhero and will learn how to defeat the "Team of Unthinkables" that get in the way of meeting our social goals. The objective for this group is to improve your child's ability to be a flexible thinker. Flexible thinking is important because it allows children to change and look at things differently.  This group will be held weekly for four weeks on Wednesdays 7/29, 8/5, 8/12, and 8/19. We will only be acceptanting eight participants for this group.
Yours in Health,
New Horizons Wellness Services
13333 SW 68th Pkwy,
Tigard, OR 97223
- https://g.page/newhws
New Horizons Wellness Services provides a true multidisciplinary approach to mental & physical health treatments for children, adults and families.
---