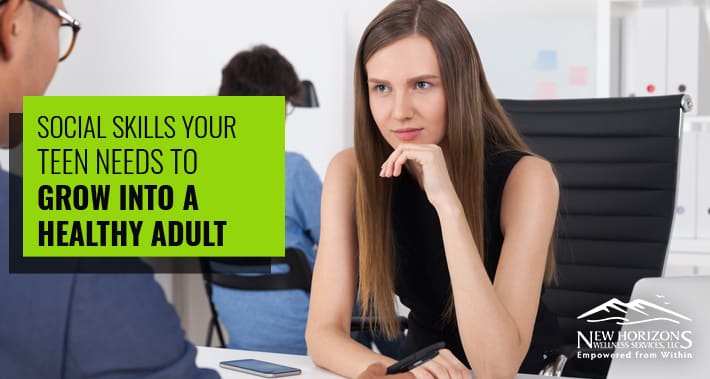 Growing up is hard, and teenagers, as they become more independent and grow closer to adulthood, sometimes need extra support to make that transition successfully.
It might seem like your teen will be stuck in their own little bubble of friends and phones forever, but they may already be developing social skills and seeing their spheres of interpersonal interaction expand and change.
Children and adolescents can show weaknesses in social skills due to a variety of factors, and deficiencies can become more apparent as children age and social landscapes become more complex.
Challenges with social skills may occur when a teen has mental health issues like anxiety and depression.
For teens who are neurodivergent, and may have autism spectrum disorder, ADHD, sensory processing disorder, or a speech disorder, they may already be well aware of the challenges that can come from interacting with people in ways that others don't understand.
Whether it's getting their first job, going to college, or making new friends, developing social communication skills is critical for having a fulfilling life as a teen, and making a successful transition to adulthood – and an occupational therapist can help.
Why Are Social Skills Important?
We use our social skills to form all kinds of relationships with others, from the barista you only see once in a while, to the boss you report to every day, to the closest of friends and romantic partners.
Being able to recognize the kind of situation you're in, who you're with, and the most appropriate way to behave are important factors in creating and maintaining friendships, finding and keeping a job, and managing conflicts in everyday life.
Without well-developed social skills, it can be difficult to get along and find fulfillment with others, and teens can find it particularly tricky as they go through big life changes and deal with the heightened emotional state of adolescence.
What Social Skills Are Important To Teach?
There are many social skills beyond this list that are important, but these eight are of particular interest for teens and their forays into adulthood.
1. How To Make A Good First Impression
Even if we don't mean to, we begin forming impressions of others the moment we meet them.
If your teen spends all their time with their friends, they probably aren't too concerned about this – after all, they know each other already.
But they might be looking for their first job, or getting ready to go to college, and that means meeting a lot of new people.
It will be important for your teen to learn how to present themselves well when meeting someone new – that could be a potential employer, a professor, a new friend, or a first date.
Smiling, being polite, and knowing how to be comfortable in social situations are important, as well as being on time, and dressing properly for the situation.
2. How To Read Nonverbal Cues
Many of the factors that create our first impressions are nonverbal, and it's just as important to be able to read those cues as it is to give them off.
Teens need to learn what it means for someone to cross their arms, look away, lean forward, or use different facial expressions.
Being able to recognize these behaviors in others, as well as themselves, will help teens be able to get a better sense of how other people are feeling and thinking.
3. How To Introduce Somebody
Introducing people to each other might seem simple, but a polished introduction can go a long way.
It shows respect and kindness to the people we know, and eases awkward moments between people who don't know each other.
Your teen can learn to introduce people by addressing the person they wish to honor first, then the others.
For example, "Dr. Smith, this is my friend Alex White. Alex, this is my professor, Dr. Smith."
Proper introductions include eye contact and welcoming body language, to help make a good impression.
4. How To Hold A Reciprocal Conversation
This is a skill that seems simple, but if you have an uncommunicative teen, you know that it can be difficult.
When someone asks a question about you, ask them one about themselves.
It's a basic rule, but encourage your teen to show as much interest in others as others show in them.
Even better than reciprocating interest in others, teens should learn to take an interest in others first.
5. How To Address People By Name
Learning, remembering, and using other people's names is an important way to make a great first impression, and make others feel special and respected.
Casual greetings like "what's up?" and nicknames like "bro" might work with friends, but in academic and professional settings, or with people you don't know well, using names helps form positive connections between people.
6. How To Maintain Eye Contact
Teenagers, especially those glued to their phones, are experts at avoiding eye contact.
There are a lot of reasons why a teen might not make eye contact – they're distracted, shy, insecure, or in a bad mood – but sometimes, they might not realize what they're doing, or how important it is.
Making eye contact is an indicator that a person cares about an interaction, whether listening or speaking.
It can be challenging to maintain eye contact in a way that feels both natural and appropriate, but there are some tips, such as looking away gently every 5-10 seconds, to appear engaged but not overly intense.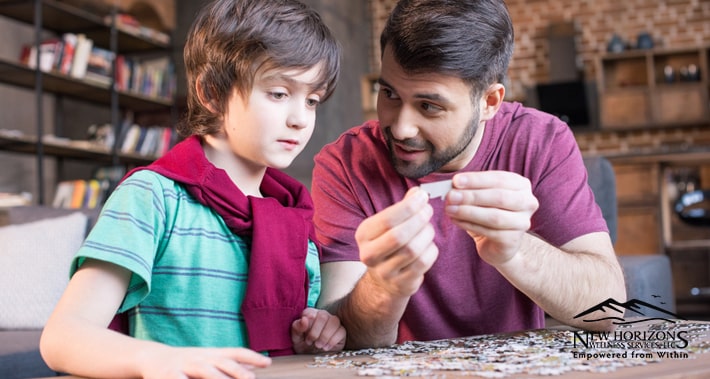 7. How To Actively Listen
Proper, active listening, is not just absorbing words and waiting for your turn to speak (or go back to your phone).
Using skills like eye contact, reciprocal conversation, and reading nonverbal cues, can help your teen become someone who listens to understand, instead of someone who listens for a chance to interject.
It's also important for teens to learn when it's an appropriate time to share their thoughts during a conversation, and what thoughts are appropriate to share.
8. How To Be Empathic
With all the changes and big events happening in their lives, it's understandable that many teens can seem self-absorbed and uncaring about others.
Expressing sympathy and empathy for others is a skill that needs to be learned and practiced like any other, though.
You can help your teen develop this skill by modeling it yourself; showing concern and care for others and what they are going through.
Book Your Appointment With New Horizons Wellness Services
If you or your teen needs some extra support learning and practicing social skills, the team at New Horizons Wellness Services can help.
Contact us today to learn more about our social skills groups.
Yours in Health,
New Horizons Wellness Services
13333 SW 68th Pkwy,
Tigard, OR 97223
- https://g.page/newhws
New Horizons Wellness Services provides a true multidisciplinary approach to mental & physical health treatments for children, adults and families.
---