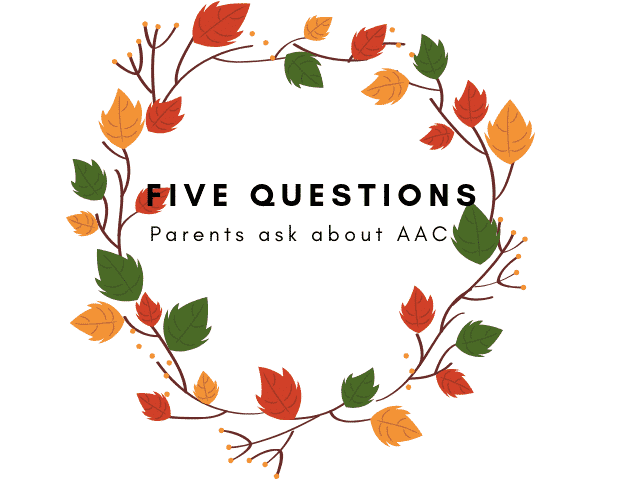 Augmentative and Alternative Communication (AAC) is a topic that is often unfamiliar to families. See our blog "October is AAC Awareness Month" to learn more about what AAC is. Parents want to know about risks and benefits of utilizing AAC. Our Speech-Language Pathologists answer questions about AAC strategies and approaches.
Here are five questions parents ask about AAC:
Will focusing on AAC stop my child from speaking?

This is the most common question asked by parents. Parents are concerned that if their child begins to use picture symbols, signs or a speech-output device to communicate, it will prevent them from using verbal speech. This is actually the exact opposite! Research has shown that AAC strategies facilitate speech and language development! Children using AAC have also demonstrated improved attention, behavior, participation, social interaction and academic progress.

My child uses some words, so why would we use AAC?

Even if a child is using a few single words, it is most often that they have much more to say. Giving children as many ways to communicate to their ideas is going to support their communication skills, reduce frustration and increase independence!

Should we wait and see if they start speaking?

When considering communication intervention, the earlier the better! We know that when children are young, their brains are the most flexible and susceptible to change.  Speech-language pathologists are trained to figure out other ways your child can communicate so they can express what they want whenever they want to!

Is it too late?

Although early intervention is ideal, that does not mean that it is too late to start implementing AAC strategies. There is no prerequisites for AAC use and any child who is not able to meet their needs using their current means of communication is a candidate for AAC.

Will AAC fix everything?

It is important to remember AAC is a "tool" not a magic wand. We know that AAC can facilitate language development and increase functional communication skills.  However AAC success is dependent on many factors. Just like any speech-language therapy, progress is made in a gradual fashion. This should be expected with the implementation of AAC strategies as well. 
Yours in Health,
New Horizons Wellness Services
13333 SW 68th Pkwy,
Tigard, OR 97223
- https://g.page/newhws
New Horizons Wellness Services provides a true multidisciplinary approach to mental & physical health treatments for children, adults and families.
---