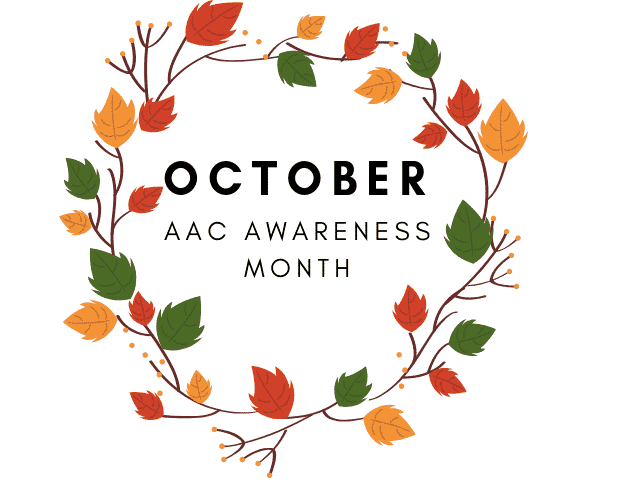 Throughout October, our speech-language pathologists will provide information and resources about Augmentative and Alternative Communication (AAC). There are deals that are going on that you don't want to miss! If you need a refresher about what AAC is, check out our recent blog Communication, AAC and Speech Therapy. 
Here are some Free applications that we use in speech therapy:
SoundingBoard. A free AAC app available for download in the iTunes store. This app includes pre-loaded communication boards, or you can create your own with up to 20-message locations.
GoTalk NOW Lite.   A customizable, free AAC app that integrates the simplicity of Attainment's GoTalk devices and the dynamic abilities of an iPad.
Visuals2Go . Visuals2Go is created with children, teenagers and adults who have moderate to higher support needs in mind. It is distinct from other AAC in that it is super easy to use and it supports learners who need access to hands on visuals using the PRINT function as well as those who needs that extra simple user interface.
Several vendors provide great AAC deals this month. Here are some that we know of. We will keep sharing more as we learn about them:
50% off of LAMP

Words for Life Application October 3rd-6th.   LAMP Words for Life is designed to meet the communication needs of children with autism. Furthermore, it was created to use in conjunction with Language Acquisition through Motor Planning (LAMP), a proven-therapeutic approach that uses consistent motor plans for accessing vocabulary.
50% off TouchChat Apps October 3rd-6th.  TouchChat is a full-featured communication solution for individuals who have difficulty using their natural voice. TouchChat is designed for individuals with Autism, Down Syndrome, ALS, apraxia, stroke, or other conditions that affect a person's ability to use natural speech.
Ways to celebrate: 
Do you have questions about AAC? Call our office to talk with one of our Speech-Language Pathologists

Share this post with others

Check back to see our October blogs about AAC

Use October's CORE WORDS
Yours in Health,
New Horizons Wellness Services
13333 SW 68th Pkwy,
Tigard, OR 97223
- https://g.page/newhws
New Horizons Wellness Services provides a true multidisciplinary approach to mental & physical health treatments for children, adults and families.
---