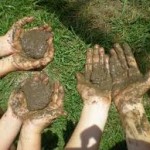 Oh the Weather Outside is Frightful…….. (part 2)
The good news is, we are heading toward spring and with each day we are seeing more signs of the seasons changing. The hard part is that there are still some really wet days ahead of us. What can you do on a cold, wet day when you have kids with that need to move? Or maybe the kids are doing fine, but you have cabin fever after spending lots of time inside this winter? Take a few moments to build some sensory rich activities into your day. It's time to get outside:
Plan and prepare before you head out. Do you and your child have enough (or too much) clothes, boots, jackets to be warm and comfy? If the transition of putting on clothes to get ready to go outside is difficult, try providing sensory input before and during the process. Deep pressure inputs can be helpful before putting on hats, gloves or boots. Singing a favorite song, humming or playing a kazoo may help the process move along. Ask your occupational therapist if you need more ideas to help with this process. Once you are heading out the door, keeping an extra set of hand warmers with you can help to prevent cold fingers or work well in the pockets of a child that does not  tolerate wearing gloves. Accept that you are going to get wet and messy and plan where you are going to come in and take everything off to help with  the transition back inside when you are finished..
Got rain? Find some puddles and see how high/far you can splash, take a bike or wagon and roll it through then watch to see what ripple pattern is made. Try hop-scotch or other jumping games in the puddle. Get out an umbrella and go singing in the rain.
Got Dark? The days are longer in the evening now, but often there are early risers in the family who wake up with a bang. So take advantage of their energy and get out some flashlights, lanterns or headlamps and go for a walk. Explore how things look different during the day and when it is dark.
Got mud? It's squishy, messy and full of texture. Some kids will dig their hand right in  Fill up the back of a Tonka truck and make an ice construction zone.to make "mud pies." If your child does not like messy play, offer tools such as a shovel or a bucket with a handle as a way to play with the mud without having to touch it.
Wish that you still had snow? Bring some ice cubes out from the freezer. Try building a ice cube fort for your action figures, scoop and pour the ice with sand toys or other tools. 
Take a few minutes for some active sensory diet play to keep brains and bodies functioning at their best help your children get to the movement that they need.
Yours in Health,
New Horizons Wellness Services
13333 SW 68th Pkwy,
Tigard, OR 97223
- https://g.page/newhws
New Horizons Wellness Services provides a true multidisciplinary approach to mental & physical health treatments for children, adults and families.
---