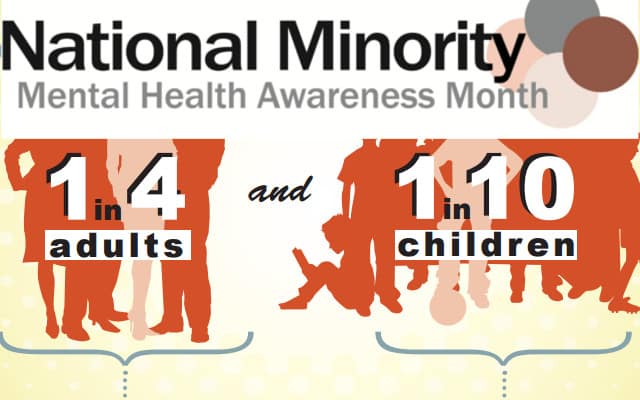 July is National Minority Mental Health Awareness Month and the month offers organizations of all types and sizes a wonderful opportunity to create mental health awareness in diverse communities. In May 2008, the United States House of Representatives proclaimed July as Bebe Moore Campbell National Minority Mental Health Awareness Month, aiming to improve access to mental health treatment and services through increased public awareness. Since then, many organizations have hosted a variety of events and activities in communities across the country each year.
Mental illness affects one in five adults and one in 10 children in America, according to the Substance Abuse and Mental Health Services Administration (SAMHSA). The U.S. Surgeon General reports that minorities are less likely to receive diagnosis and treatment for their mental illness, have less access to and availability of mental health services and often receive a poorer quality of mental health care. Furthermore, mental illness is a leading cause of disability, yet nearly two-thirds of people with a diagnosable mental illness do not seek treatment, and racial and ethnic groups in the U.S. are even less likely to get help, according to the National Alliance on Mental Illness.
During National Minority Mental Health Month, help us raise awareness in our community. Encourage your family, friends, and loved ones to learn more about improving mental health and illness.
Yours in Health,
New Horizons Wellness Services
13333 SW 68th Pkwy,
Tigard, OR 97223
- https://g.page/newhws
New Horizons Wellness Services provides a true multidisciplinary approach to mental & physical health treatments for children, adults and families.
---